Azure Virtual Desktop
Azure Virtual Desktop (AVD) is a virtual desktop/software environment to allow faculty, staff, and students access to College-licensed software from their own computers. While the virtual desktop is a Windows environment, AVD can be used from Macs and Chromebooks as well as PCs. It can be run through the web or, for best performance, through a client installed on your computer.
Working with AVD
Saving Files in AVD
AVD Over the Web
AVD via Desktop Client
Software Available in AVD
---
Working with AVD
You must remain connected to the internet while using AVD to avoid losing work. If you are working on a laptop and close the lid or the battery dies, your session will be closed due to inactivity, and you may lose work. You should close the program or log off the remote desktop session when you are finished using it.
AVD can access printers on your computer and can print to any of your installed printers, including PC Prints printers.
---
Saving Files in AVD
Saving files in OneDrive is recommended when possible. However, not all applications are able to save directly to OneDrive.
You can save files to the Desktop or Documents folder within AVD, and these files will be accessible the next time you access AVD. Please be aware that you will not be able to access these files outside of AVD.
AVD automatically maps your network drives. You can save files to your network drives if you wish to access them from a computer on campus. See Network Drives for more information.
---
AVD Over the Web
When visiting the above link, log in with your email address and password. You will be presented with a menu of available applications along with PC Virtual Lab, a virtual Windows desktop environment with all of the applications.

When you choose an application or the virtual lab, you may be asked about accessing local resources. You may want to allow access to printers as the virtual environment does not have any installed printers. Following this screen, you will be asked to enter your Net ID and password again.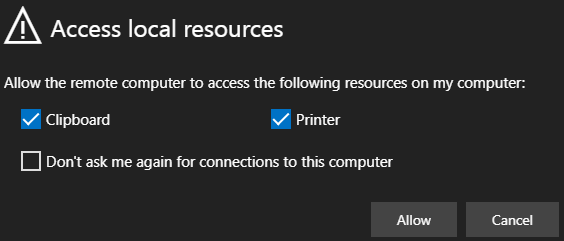 The web client gives shows a tool bar with tabs for each virtual desktop or application you opened. The below example shows the virtual desktop along with two applications (represented by their icons) in the menu bar. In the upper right-hand corner, there are icons to pin or unpin navigation bar, maximize the screen, or access settings.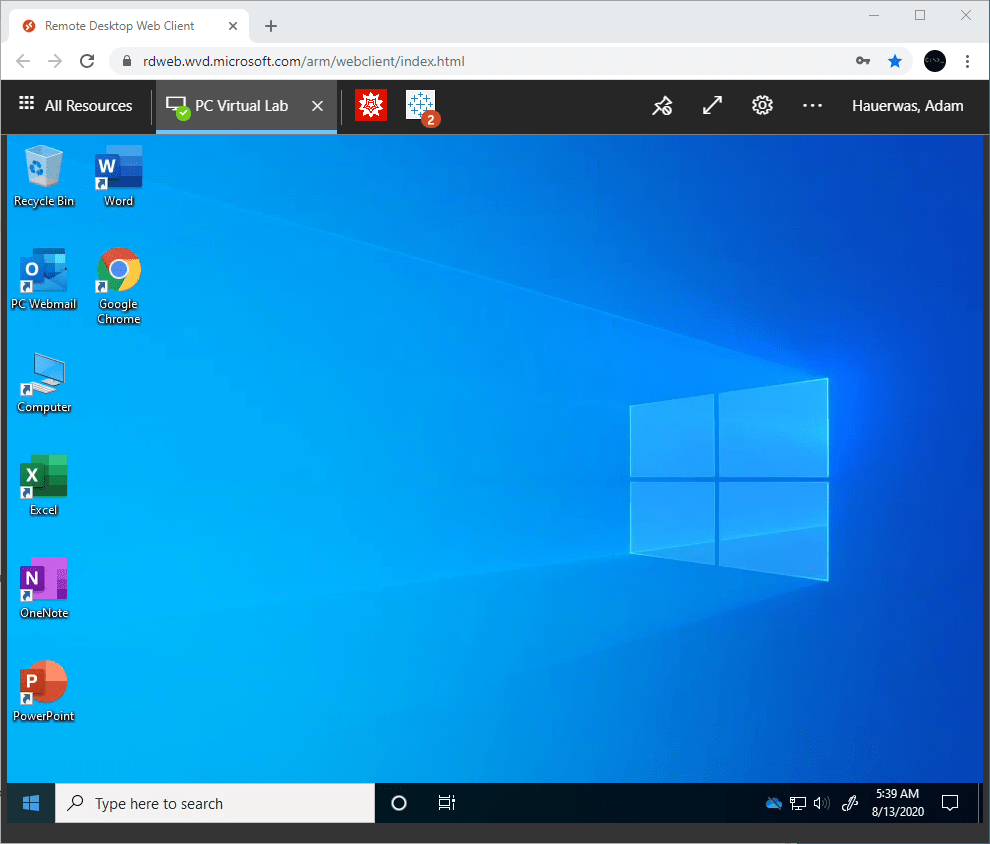 ---
AVD via Desktop Client
For best performance, access AVD from a desktop client. This requires having Microsoft's Remote Desktop application on your computer. When using the desktop client, you can save to your local drives.
Access AVD from Windows
Access AVD from macOS
Access AVD from Mobile Devices
Access AVD from Windows
Download and install the Windows client by visiting Connect with the Windows Desktop Client and following the instructions there. Once installed, you'll see the following. Click Subscribe and sign in with your Net ID and password.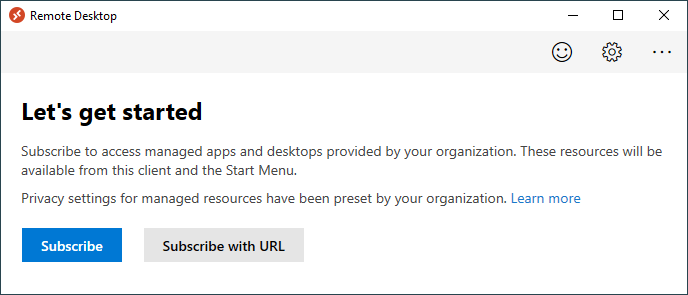 You'll then see the applications and virtual desktops available.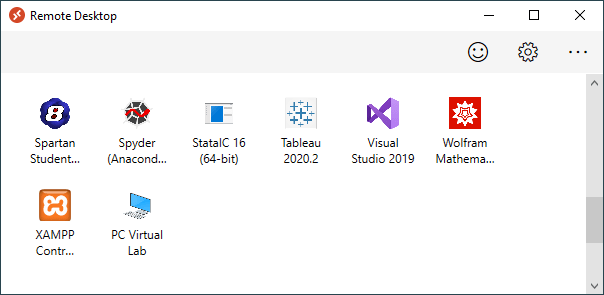 Access AVD from macOS
Install Microsoft Remote Desktop from the App Store. When you open the new app, choose Workspaces at the top and then click the Add Workspace button.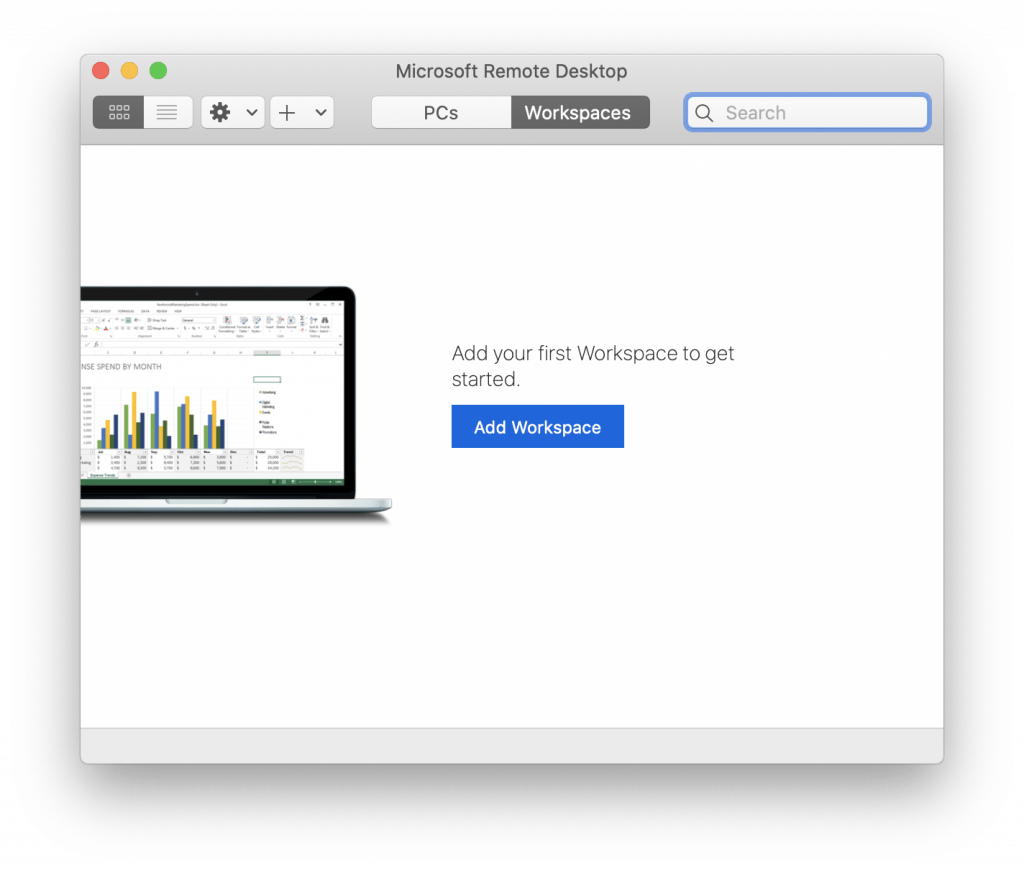 Enter the below URL when prompted and click Add. You will be required to log into your Microsoft 365 account using your Providence College email address and password.
Add Workspace URL: https://client.wvd.microsoft.com/api/arm/feeddiscovery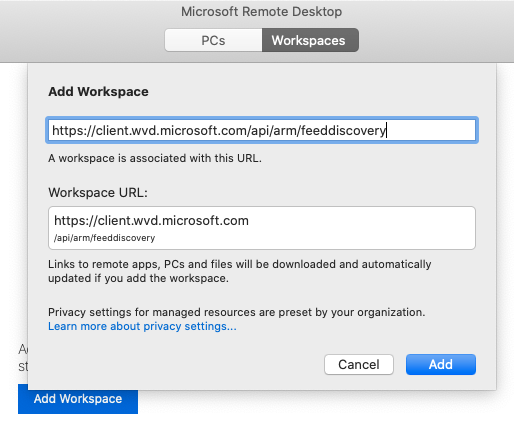 You'll then see the applications and virtual desktops available.
Access AVD from Mobile Devices
AVD is accessible from iOS (iPhone and iPad) and Android mobile devices. While we are not able to provide full support for AVD on mobile devices, please visit the links below for more information.
Note: The AVD experience on mobile devices is not the same as that on a desktop operating system. It can be clunky and difficult to use on a mobile platform.
---
Software Available in AVD
Adobe Acrobat DC
Adobe Illustrator 2020
Adobe Photoshop 2020
Alteryx 2020.2
Anaconda3 2020.02 (Python 3.7.6)
Cisco Jabber
Derive 5
DNA Master
Frontline Excel Solvers V2020
Google Chrome
IBM SPSS Statistics 27
IDEA
Microsoft Office 365
MobaXterm
Mozilla Firefox
Notepad++
PerkinElmer ChemOffice Suite 2019
PyMOL 2.4.0 (Python 3.7.7)
Python 3.2.2
R for Windows 4.0.2
Sibelius
Spartan Student v8.0.4
Stata 16
Tableau 2020.2
Virtual Astronomy Laboratory 3.0
Visual Studio Community 2019
Wolfram Mathematica 12.1
XAMPP